Building Contractor Books
Click Here For Complete List of Contractor Business Books
Contractor Business Tips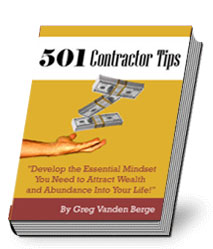 Develop the Essential Mindset You Need to Attract New Clients Who Want To Pay You More Money! Another Incredible Book, by Greg Vanden Berge.
This book is full of my personal successes and failures as a contractor and construction worker. It's been a long journey and I'm sure there's more lessons to learn in the future. I'm sharing some of the ones I've already experienced, in hopes that you will learn to profit from them.

This book gives you a general idea, what it takes to prepare for your contractor's examination. Different states have different rules, so keep this in mind.

Packed with fast track building code facts, tips and techniques, and quick calculations, this practical resource helps building contractors define their business requirements.
Written specifically for contractors, this "how-to" book enables you to meet the challenges of green building construction. You'll discover how constructing environmentally friendly.

Prepare for your state or county licensing exam with the most comprehensive building contractor's licensing guide on the market today.
Understanding what the international codes require can be a real challenge. Completely revised Contractor's Guide to the Building Code cuts through the legalese of the code books.
Contractor's Checklists and Forms provides readers with a checklist approach to successful contracting that covers all phases of the construction process.

A straightforward, conversational guide that emphasizes how strategic thinking is essential for starting and running a construction company today.
Click Here For Complete List of Contractor Business Books